DIY Bow Tank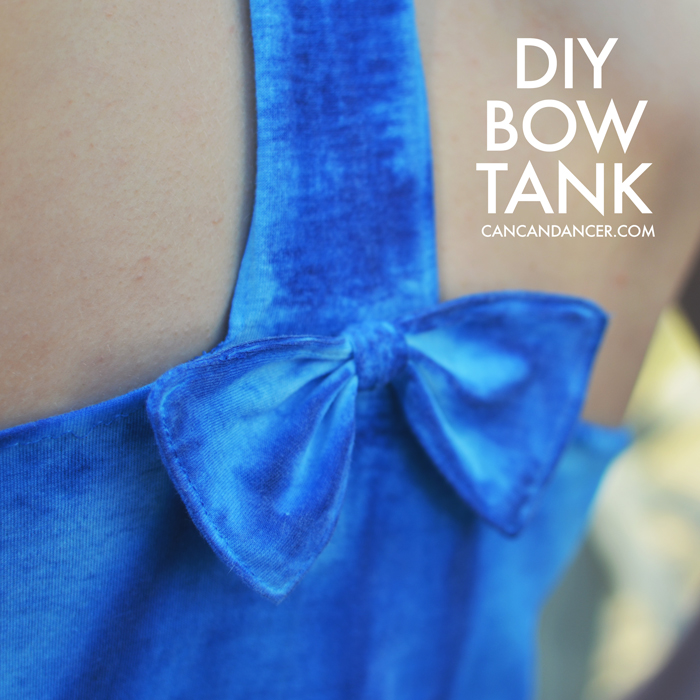 Hello World,
I used to have quite a collection of t-shirts. Last summer, I used 42 of them to make a college t-shirt quilt, but I still have a stack of them left in my "make something with this pile." Since summer is my hands-down favorite season, and the weather has finally started getting nice where I live, I reconstructed a tee into a bow-back tank.
If you have an old t-shirt to spare, check out today's tutorial: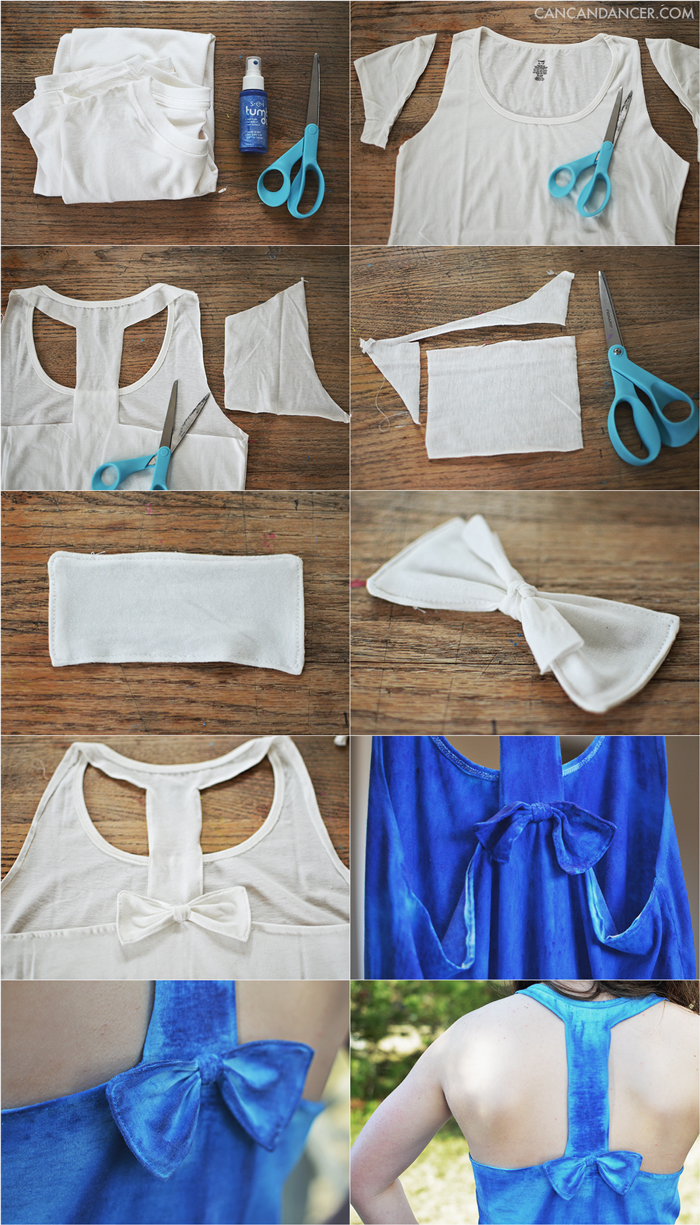 1. Gather your supplies: a t-shirt, scissors, a sewing machine, needle and thread, and fabric dye if your tee was a little too plain to begin with. I bought a few bottles of dye from Darby Smart. You will only need one bottle for this project.
2. Remove the sleeves from your t-shirt. I trimmed a little more than just the sleeves, to create a tank-top shape.
3. Flip over your shirt and cut out the back sections (similar to the photo). Leave the center strip attached unless you want to make a halter top.
4. With one of your back section cut-out pieces, cut out a rectangle.
5. Fold this rectangle in half, and sew along 3.5 sides, leaving a gap so you can turn it right side out. Flip it right side out, and sew the gap closed.
6. Cut a skinny strip of fabric from your scraps. Tie this around the center of the rectangle piece you just sewed. Knot it again, and trim the ends of the ties.
7. Hem the edges of your tank, or leave them raw. My t-shirt was too baggy on the under-arm area, so I took the sides in. I sewed my new side seams with my sewing machine. Hand sew the bow in place on the back of your tank.
8. I found the dye was more vibrant when the shirt was damp vs dry. I got my shirt wet, rung out the excess water, and laid it down on cardboard. I sprayed the front of my shirt with the dye, flipped it over, and then sprayed the back.
9. Hang your shirt outside over something you don't mind getting dye dripped on (like grass), and allow it to dry. Once it is dry, throw it in the dryer for a few minutes to set the dye and fluff your bow back up.
Happy Crafting!