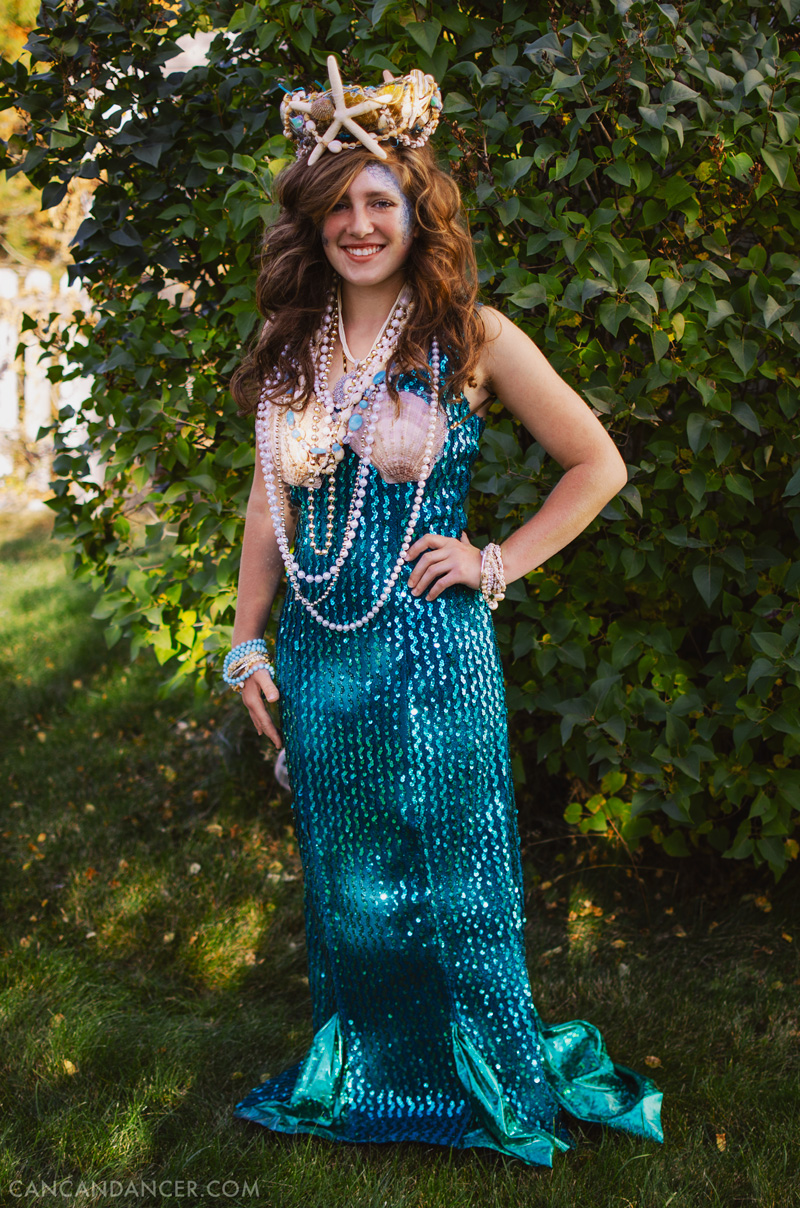 Hello World,
In my last post, I shared a DIY Glinda costume my mom had put together. For the second costume in this series, I'm sharing her DIY mermaid costume with you today,. To switch it up, my sixteen year old sister was kind enough to model it (with her mermaid-tastic hair).
My mom bought the teal sequin dress at a thrift shop, and sewed the three panels (two skinny ones on the front, one large one on the center back) on the bottom to flare it out and make it look more fin-like.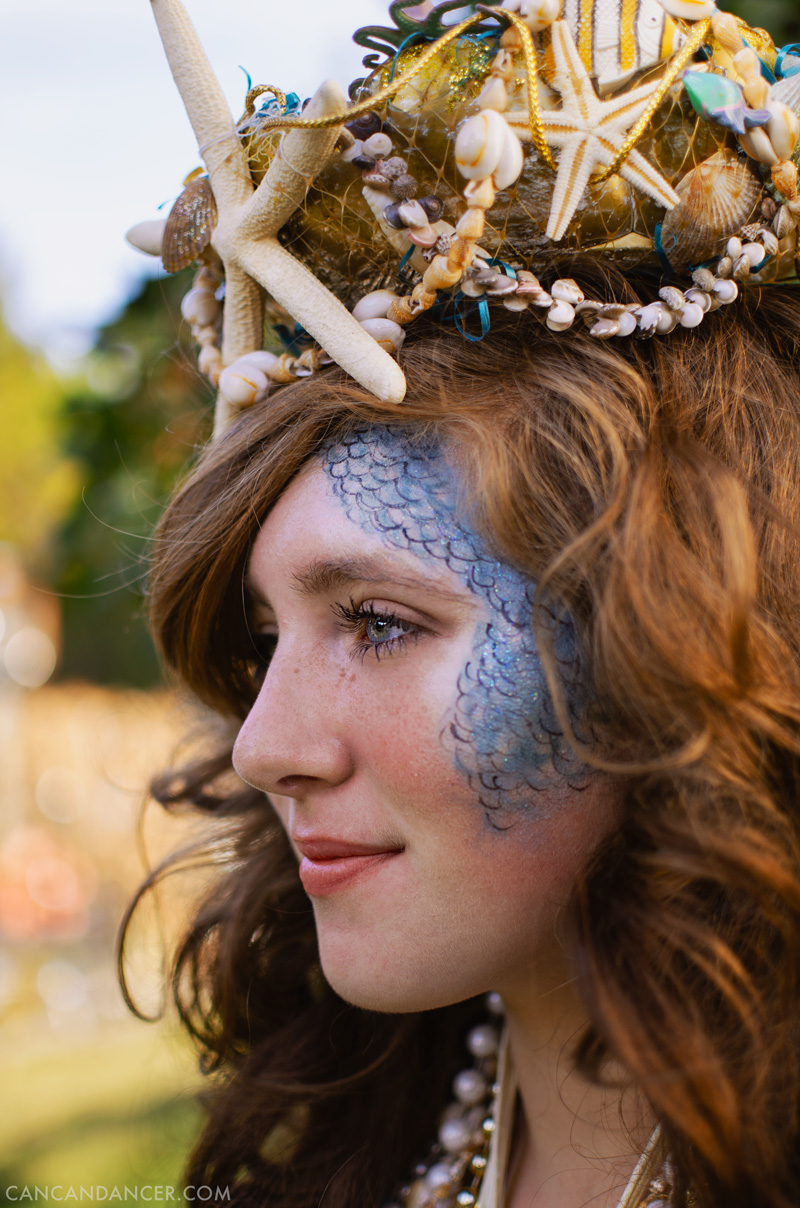 For my sister's makeup, I started by applying foundation to her face as a base. I then used my finger to apply light yellow and light green eyeshadow from her cheek bone area to her forehead. Next, I used a small eyeshadow brush and drew overlapping semi circles with teal eyeshadow to give the appearance of scales. Next, I drew scales with liquid black eyeliner. (I used the $1 e.l.f. eyeliner, and it worked great.) To finish off her mermaid makeup, I applied some glitter eyeliner to random areas of the scales.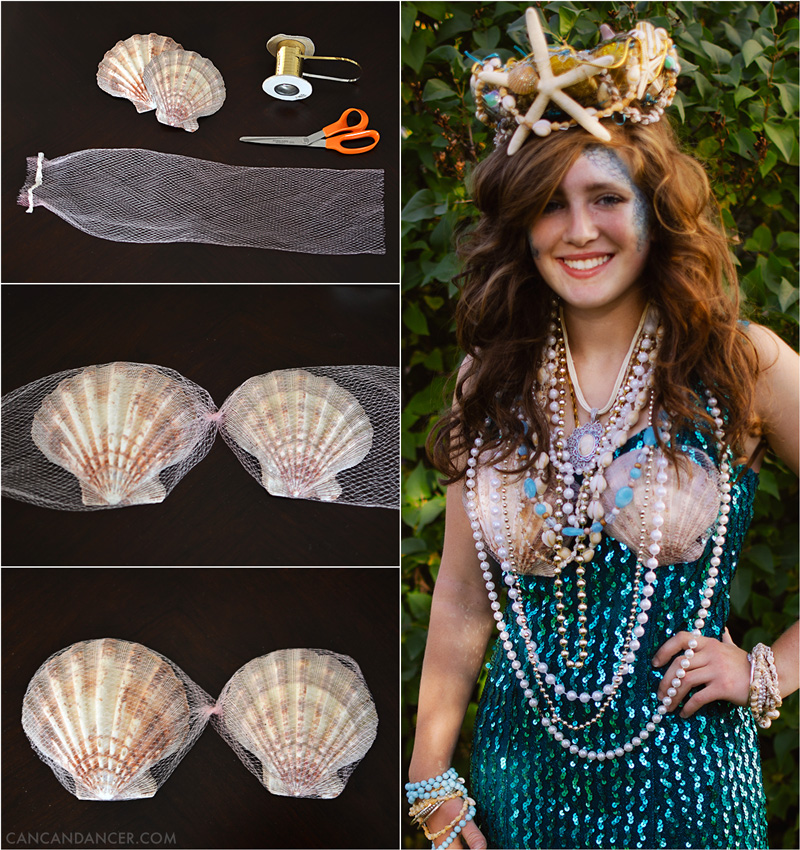 To make the shell top, my mom found two large shells (try to find ones that are similar sizes, so your chest doesn't look lopsided) and pushed them into a netted produce bag. We twisted the center of the bag, and knotted each end of the bag, trapping the shells inside. Next, we hid the knots in the back side of the shell. We looped ribbon to the center of the top (to make a halter) and to each end to make straps (similar to a string bikini top). We tied the halter portion around my sister's neck, and knotted the other ends together in the back.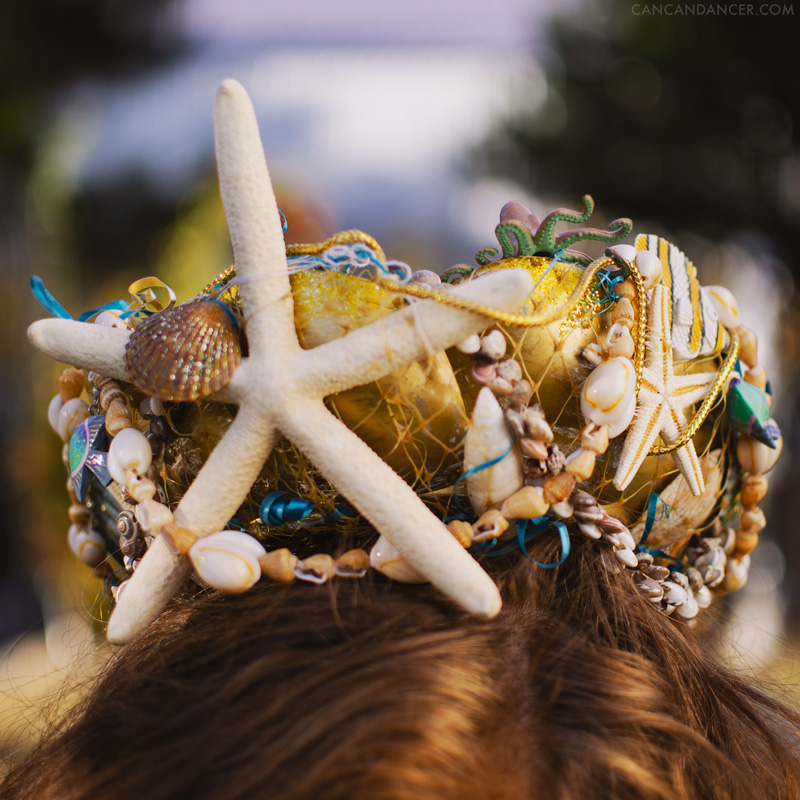 My mom actually made the base of her crown with a plastic pie-container lid! She cut an 'X' in the center of the lid so it would better sit on her head, and covered it with glittery gold paint. Next, she tied grocery-bag netting around it, and trapped shells, starfish, and plastic under-the-sea toys in the netting. She layered more ribbon and puka shells to fill it out. To top it off, she tied a large starfish to the front netting. We kept it secured to my sister's head with a few large bobby pins.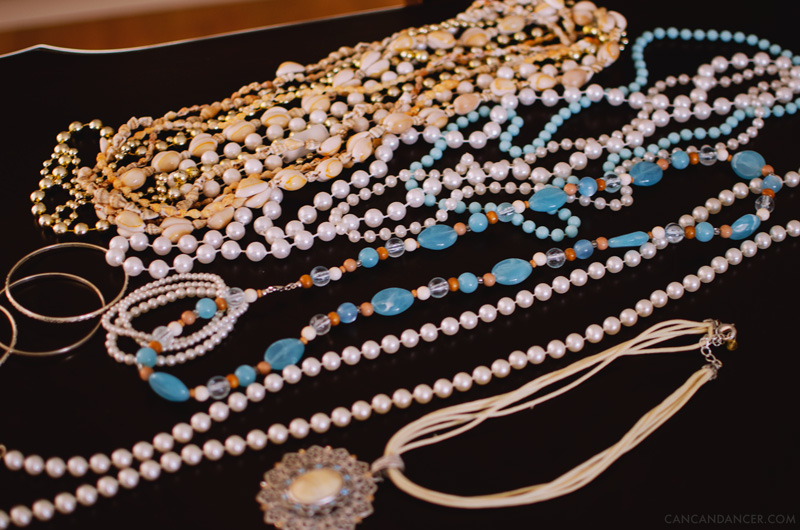 To finish off the costume, my sister wore many pearl, puka shell, and beaded necklaces of varying lengths. She also wore bangles and pearl bracelets for a "look at this stuff, isn't it neat" look. (Yes, Ariel is my favorite Disney princess.)
Happy Costuming!